Overview
The Dental Therapy OSCE (DT OSCE) is a component of the initial dental therapy licensure process or the Advanced Dental Therapy Certification process, determined by the Minnesota Board of Dentistry and based on the date you were licensed with the Board. The DT OSCE is a 100-question multiple-choice computerized examination delivered at Prometric Test Centers. The test is approximately 2.5 hours in length, including an introduction, tutorial, and final survey. The actual examination time is 1 hour and 55 minutes. Candidates may skip or mark items to be considered later. Once the examination is completed, however, the candidate will not be able to return to those questions. The time indicated on the computer screen is the amount of time for that subsection. There is no specific time limitation for each item.
Content/Scoring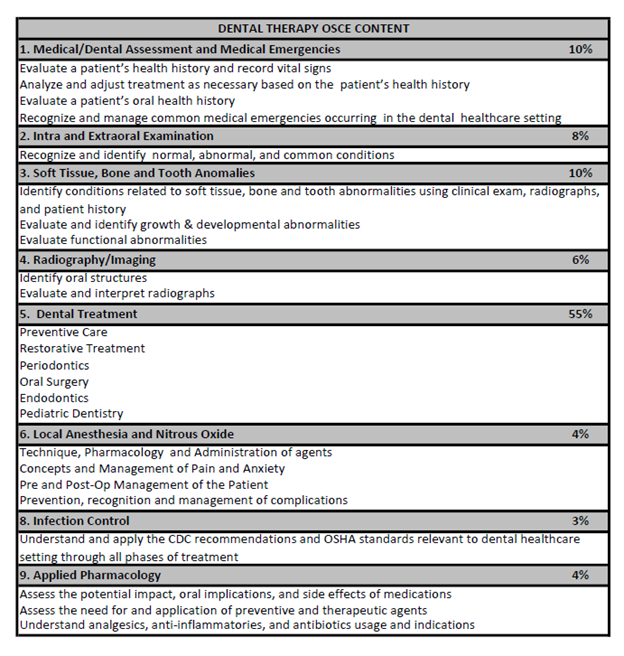 Fee Schedule
| | |
| --- | --- |
| Advanced Dental Therapy Fee Schedule | |
| Dental Therapy OSCE | $450 |
| Dental Therapy OSCE (Retake) | $275 |
| | |
| Additional Services & Fees: | |
| Late Registration Fee (non-refundable) | $250 |
| Refund (post deadline) | $100 |
| Score Report | $35 (per address) |
| Score Certification | $50 |
| Exam Appeal | $400 |
Registration & Scheduling
Click the button to create an account, if necessary, and register for the DT OSCE. If this Examination is part of your initial licensure process, your school will verify that you are eligible to take the exam. If your are an Advanced Dental therapy Candidate, the Minnesota Board of Dentistry will provide a letter authorizing you to take this examination. During the registration process when prompted to provide proof of graduation, upload your letter from the Board.