For immediate release, July 31, 2020 | Linthicum Heights, MD
Direct inquiries to sbeeler@cdcaexams.org
Dr. Amanda Amaro challenged part of the ADEX Dental Examination before the COVID-19 pandemic, performing the Periodontal Scaling and Class II portions with a patient, then Class III on a CompeDont™. She is sharing her story in a blog.
"The tooth is so realistic that I actually forgot for a moment it was simulated, and used the spoon excavator with the same amount of force that I would on a natural tooth. Luckily, I quickly caught myself before causing any damage."

dentaldish.com
To support candidates in both professions, CDCA teams produced a wide variety of materials including examination manuals, videos offering insight into content, and live chat via Zoom before every exam.
Many candidates feared the experience would be evaluated differently.
"Nothing changes in this manner, except you remove all the aspects that could negatively impact your patient or you," said Dr. Scarlet Johnson, University of Mississippi graduate, when interviewed by the American Student Dental Association (ASDA) about her experience taking the non-patient examination.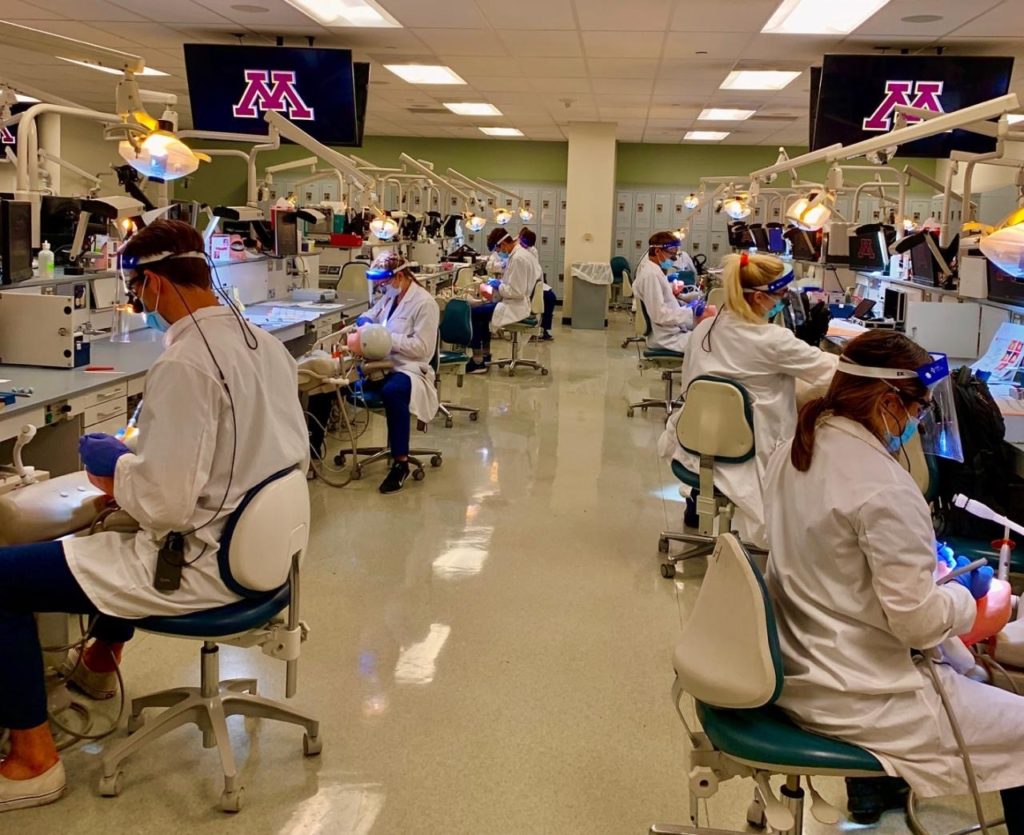 "The CDCA worked closely with ADEX to ensure methodologies and evaluation of the CompeDont™ would be a parallel experience," affirms Dr. Ellis Hall, Director of Examinations for the CDCA. "Gathering feedback from not only candidates but also schools and exam administrators is an important part of understanding the exam as a whole and maintaining a quality process," he continued.
Analysis of more than 1,000 candidate survey responses is underway. Anonymous feedback allows for candid comments.
"Much better than having to search for an ideal patient. The CompeDont™ tooth challenges your understanding of how carious lesions should feel/look like."
"This year, 2020, due to COVID-19, we had the new comp typodont. During my exam, all the CFE's, no exception, were very helpful and understanding with the candidates. I am very grateful to CDCA to help us to go through this adverse situation."
"The successful design and implementation of a mannikin tooth for a root canal or a crown prep or a restoration…that exquisitely mimics real human teeth was a wonderful achievement. (I have been working on real human teeth for 46 years and the utilization of "new tech" for my boards at 65 years old was very utilitarian and eliminates a horribly unpredictable factor: human patients, and human variations."
"I was really impressed with the simulated dentin and simulated caries on these teeth. The "drop in" I feel on access of a natural tooth with caries was mimicked well."
Students and faculty at Touro College of Dental Medicine reported similar experiences when they were interviewed for a university story, now posted on their website.
"The Class of 2020 has shown remarkable resilience, hard work, and dedication throughout their journey as the pioneering class of TCDM, and this accomplishment is overwhelmingly fantastic," said Bert Goldfinger, D.D.S., Director of Pre-Clinical Education and Associate Professor of Dental Medicine, who organized the CDCA exams."

dental.touro.edu
"I want to thank the CDCA for their quick action in offering the CompeDont tooth format. As a career-changer (former high school teacher), I can appreciate the logistical challenge that proctoring this new examination format presented. I have been impressed with everyone at the CDCA, from the candidate services specialists to the examiners. These interactions have confirmed my career choice; I already feel supported by my future colleagues," Dr. Amaro wrote to CDCA.
The CDCA continues to work with states' Boards of Dentistry seeking to utilize non-patient based examinations into the future.
Follow the links throughout this story to read the media cited.